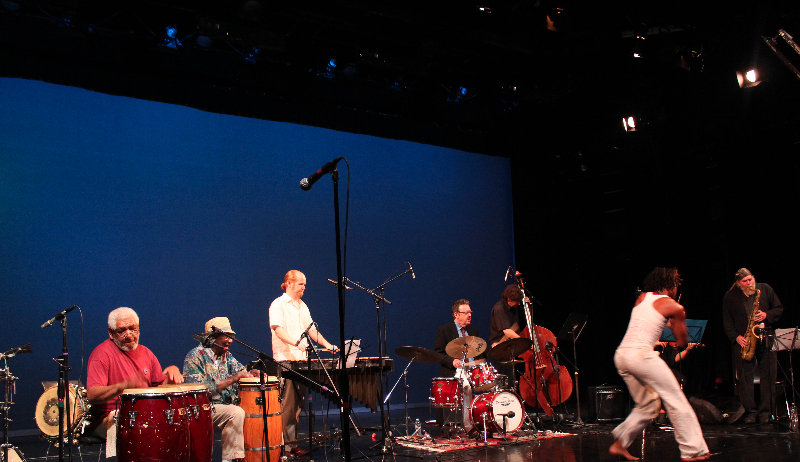 Sonic Liberation 8 presents 12 artists in a live performance of John Coltrane's 1965 album, Kulu Se Mama. This album serves a bridge in Coltrane's development. It marks the beginning us his use of African percussion and also, his exploration of African spirituality. Kulu Se Mama established the what many label Astral Jazz, a genre using inter cultural instrumentation for an expansive layered sound.
The title track, Kulu Se Mama, is composed by percussionist and instrument maker Juno Lewis. Coltrane met Mr. Lewis, a New Orleans native, in Los Angels, and in 1965 they collaborated on Lewis's title composition. Sung in the Louisiana Creole language, the lyrics were originally written as a poem by Juno Lewis to his mother.
This landmark album, the last to be released in Coltrane's lifetime, directly informed the works of Alice Coltrane, Pharaoh Sanders, Don Cherry and numerous others.
Featuring Tom Lowery on vocal, percussion, & drum kit, Kevin Diehl – drum kit & bata drums, Nichola Rivera and Ron Howerton – bata drums & percussion; Matt Engle – bass, Veronica Jurkiewicz – viola, Elliot Levin – woodwinds and Daniel Peterson – bass clarinet.
With special guests Terry Lawson – tenor sax and Behn Gillece – vibraphone
Temple University professor and choreographer, Dr. Kariamu Welsh premiered a new dance work called Resonance! Performed by dancer, Shaness Kemp
Set 1 (45 min) Kulu Se Mama
Kulu Se Mama/Resonance!
Vigil
Welcome
Set 2 ( 45 min) Other Works of the John Coltrane Canon
India
Dahomey Dance
Baba Fururu/Afro Blue (Tradional Lukumi & Mongo Santamaria)
John Coltrane's Kulu Se Mama Tribute featuring Sonic 8 & others – 12 artists in total
Premiered on Tuesday, September 20th, 2016
Temple University, Conwell Dance Theater, 1801 North Broad Street, 5th Floor Philadelphia, PA 19122