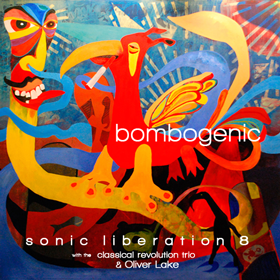 Bombogenic
Sonic Liberation 8 with the The Classical Revolution Trio & Oliver Lake.
October 7, 2016 on High Two Recordings
[40 min. 35 sec., 12″ LP, CD, & Digital]
Sonic Liberation 8 celebrates 15 years as a creative music ensemble with a landmark record release called Bombogenic. The album is a collection of compositions and arrangements realizing the confluences loft jazz, Afro Cuban Yoruba music, new chamber music.
Sonic Liberation 8 are celebrating this milestone with special guest artist Oliver Lake (World Saxophone Quartet) and the Classical Revolution String Trio on this their 6th record release on Philadelphia's High Two Recordings.
Bombogenic is available in 12" LP [HT035], CD [HT-036] and digital download. There are 9 tracks for a total running time of 40 min 35 sec.
Sonic Liberation 8 composed 5 new original pieces. On one track, Kevin Diehl, the octet's leader, arranged the Erik Satie composition, Gnossienne, recasting it as a platform for creative interaction rooted in these genres.
Oliver Lake composed 2 compositions for specifically this Afro-Cuban-Yoruba jazz format. Diehl arranged bata drums parts for these 2 pieces along with another of Mr. Lakes compositions called Love Like Sisters. Love Like Sisters originally appeared on a World Saxophone Quartet album called Metamorphosis (1990 Elektra/ Nonesuch).
Bombogenic was produced by Aaron Levinson and recorded at his Range Recording Studios outside of Philadelphia during the summer of 2015. Aaron is a 2-time Grammy nominated, 1 time Grammy winner. He has produced and released over 27 albums including The Philadelphia Experiment & Spanish Harlem Orchestra.
The work of Aaron and his crew engulfs the music of Bombogenic with a deep, lush sound.
From the Liner Notes (LP)
"The beauty shines through. Do yourself a favor: put on your headphones or get close to your speakers, and close your eyes. Hold someone's hand. Take this journey. By the time you get to track six, "Streamin'," you will already be transported. And then, it is time for Professor Lake to begin spinning his magic.  You don't need to look to the future, you are there. We are here, now. We are in this together. Music reminds us of our gifts, our responsibilities, and the spirit of life.
And beauty shines brightly."
– Steve Rowland, oral historian and radio documentary producer, two-time Peabody Award Winner (Miles Davis Radio Program, Leonard Bernstein: An American Life, Carlos Santana: Music For Life)
PRESS: For access to our private Soundcloud playlist, downloadable album, physical 12″LP or CD please contact kevin [at] sonicliberation8.com.
press
the ensemble is at its best on the new Bombogenic (High Two), which raises the stakes by folding a string quartet into the arrangements and enlisting superb alto saxophonist Oliver Lake, who unleashes one tart, exciting solo after another and even brings a handful of compositions to the table. — Peter Margasak, Chicago Reader
———-
There's something magical—a sense of ritual, perhaps—going on in this particular combination of sounds that stays with the listener long after the record is over.
Much of the Sonic Liberation 8's new release, Bombogenic, has something similar going for it. Here, it's the fricative forces which emerge when "classical" strings encounter Yoruba-inspired Afro-Cuban bata drumming and the keening sounds of modern jazz woodwinds.
The addition of the Classical Revolution String Trio and jazz legend Oliver Lake to the core band is a great example of the whole becoming something greater than its already impressive parts.
[Oliver Lake] wrote two pieces, "Streamin'" and "Floatin'" specifically for the Sonic Liberation 8 plus strings. Both have that magical something mentioned above: that unique tension one hears when strings and traditional polyrhythms are pitted against each other in a different contexts. – Dave Wayne, AllAboutJazz.com
———-
from John
"How dare you give me goosebumps so early in the morning.
It looks like a great community of musicians you have there in Philly."
– John Tchicai (Perpignan, France)
the facts
Title: Bombogenic
Artist: Sonic Liberation 8
Tag: Sonic Liberation 8 with Classical Revolution Trio & Oliver Lake. Sonic Liberation 8 shape-shifting brew of Loft Jazz, Afro-Cuban Yoruba music, and new chamber music
Release Date: July, 2016 on High Two Recordings
[40 min. 35 sec., 12″ LP, CD, & Digital]
12″ LP [HT-35]
CD [HT-36]
the tracks
SIDE ONE
1. Tin Palace (2:28) Kevin Diehl
2. Coolin' It (4:28) Nichola Rivera
3. Bombogenic (4:01) Kevin Diehl
4. The Culprit (5:13) Matt Engle
5. Gnossienne (5:43) Eric Satie
SIDE TWO
6. Streamin' (5:03) Oliver Lake – Talkin' Stick Music SESAC
7. Cyclogenic (2:31) Kevin Diehl
8. Love Like Sisters (4:31) Oliver Lake – Talkin' Stick Music SESAC
9. Floatin' (6:37) Oliver Lake – Talkin' Stick Music SESAC
the musicians
Kevin Diehl – Drumkit, Bata Iya, Composer
Matt Engle – Bass, Composer
Elliot Levin – Woodwinds
Veronica Jurkiewicz – Viola, String Section Leader
Mike Watson – Bass Clarinet
Nichola Rivera – Bata Itotele & Iya, Conga, Composer
Tom Lowery – Drumkit, Afro Brazilian Percussion
Ron Howerton – Bata Okonkolo, Conga, Percussion
Shawn Dade Beckett – Okonkolo (track 5)
Russell Kotcher – Violin
Eric Coyne – Cello
Melanie Hsu – Cello
(string trio tracks 5-9)
Oliver Lake – Alto Saxophone, Composer (tracks 6-9)
production
Produced by Aaron Levinson & Kevin Diehl
Recorded July 26, 2015 at Range Recording, Ardmore, PA
Recording Engineer – David Pettit
Assistant Engineer – Brendan Monahan
Mastering – Carl Saff, Chicago
art
Cover Art: "Oil & Acrylic" 2011
by Joseph Kuhn 5' x 6' on canvas Kuhnstar.com
contacts
Kevin Diehl, Sonic Liberation 8
267 968 3093
Daniel Piotrowski, High Tow Recordings
267 968 5479
links
https://www.discogs.com/artist/4914294-Sonic-Liberation-8
https://instagram.com/SonicLib